KILLCODE's KILLCODE Album Review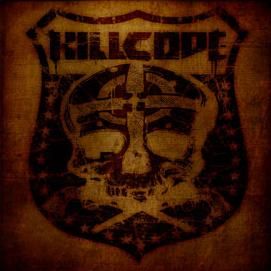 KILLCODE
has been a favorite of mine since they handed me a copy of their ep
To Die For
(
review
. I hadn't really heard anything like them before. The strong crunch of their guitars and their firm ability to craft memorable songs was an immediate LOVE! I loved cranking up the EP and strutting around like a bad ass in my skinny jeans and PBR. But it was only six songs. It takes me longer to drink a PBR than six songs.
Well
KILLCODE
has heard my pleas and have finally released a full length album. The self-titled album is exactly what this pasty, white asshole needs to sip his PBR and drive my Toyota Celica like a true motherfucking badass!
Songs like
Loose
that start with a head bobbing bassline as if
Duff McKagen
himself wrote it, highlight the musicianship of
KILLCODE
. Electrifying guitars pop in right before
Tom's
mellifluous voice begins to croon you. The slight distortion in the guitars help create a sweaty, smokey (Not if you are in NYC or Delaware) bar room, where
KILLCODE
would be right at home.
If you are a fan of the great band
SHINEDOWN
, you will LOVE
KILLCODE
. Tom's voice is an instrument just like Brent's voice from
SHINEDOWN
.
Tom's
smokey, thick soulful voice is comfortable at the lower registers and effortlessly jumps to the higher registers. It's not just his voice though.
The harmonies as heard in Southern Rock inspired track,
Liberated
, are palpable.
Liberated
is also the track that diverges slightly from the
KILLCODE
rough, Southern sludge sound. Liberated sounds like what
Lynyrd Skynyrd
might sound like if they weren't eviscerated in the forests of Mississippi and created an album today.
Bad Motherfucker
is a great song for making you feel like you could kick anyone's ass. The swirling guitar solo, the indispensable oscillation, and the lyrics like,
"I'm a bad motherfucker and I don't give a fuck"
help create that illusion. I felt like I could take down some poor white trash douchebag that touched one of my girls at the strip club.
"Autumn said you touched her ass motherfucker. GTFO!"
Of course, I would need to have my headphones in as that white trash douchebag stomped a mudhole in my skinny ass, but at least I could feel like a true bad motherfucker thanks to
KILLCODE
!
A giant surprise on this record is the song
Trust
featuring the voice of an angel
Angelina DelCarmen
. Her strong vocals a perfect compliment to the gruff vocals of
Tom's
. The subtle use of the dueling vocals to express different opinions is great. I was also glad to hear her take a stanza on her own. It would be as if
Lzzy Hale
did a duet with
Corey Taylor
of
STONE SOUR
. The guitar solo showcases once again
KILLCODE's
ability to write an impeccable piece of music to complement the song.
I could spend another 1,000 words extolling the virtues and prodigiousness of this album. It's a rare debut album that blows me away.
KILLCODE's
self titled debut album is available through
iTunes
,
Amazon
, or even through the band's
website
. Buy, consume, support this band. They are true NYC artists through and through and that's deserving of support in and of itself.
Trackbacks