Axl Rose Lawsuit Against Activision Could Cost 20 Million
Guns N' Roses
singer
Axl Rose
looks like he may lose his $20 million lawsuit filed against video game giant Activision Blizzard, according to the Hollywood Reporter.
Rose sued the company in November 2010, claiming that it used an image of former Guns guitarist Slash in Guitar Hero III after promising him that the game would not feature any reference to Rose's ex-bandmate. Rose claimed that was a condition of him agreeing to license the song "Welcome To The Jungle" for use in the game.

This lawsuit is asinine and shows the level at which Axl hates Slash. To license your music on the condition no Slash likeness could be in the game is like the time I told Father Krautsack that he could only cum on my ass not in it. You just can't control what happens after you give the OK. Axl is learning that he should have just let sleeping dogs cum where they want.

A Los Angeles Superior Court judge indicated on Thursday (January 31st) that he is inclined to dismiss Rose's suit because he did not file it until a full three years after the game's October 2007 release. Axl claims that he was not aware of Slash's image in the game until later. I do believe that. Could you imagine Axl sitting around playing Guitar Hero?.

Although documents in the case indicated that an attorney for the singer emailed Activision about it around the time the game came out. Uh oh! I took time and went back and got my G.E.D in law and that shows that someone was aware of the likeness back when it was released in 2007. This isn't looking good for W. Axl Rose. But there is more.

Rose said in a deposition, "The reason I did not file a lawsuit is because Activision — through my managers and representatives — offered me a separate video game and other business proposals worth millions of dollars to resolve and settle my claims relating to GH III."

He added, "From December 2007 through November 2010, Activision was offering me a Guns N' Roses-dedicated video game, a game dedicated to music from the Chinese Democracy album, and other proposals."

Who the FUCK wants to play a game based on Chinese Democracy? If you ask any GnR fan what songs they want to play it's Welcome to the Jungle, Sweet Child O Mine, Paradise City, etc. And a game about Guns N' Roses would HAVE to include Slash. Axl can't be that delusional right?
This turned into a moot point since the guitar video genre died about three years ago. I thought it was a good idea to expose younger kids to great rock music, but kids get bored easily and are onto the next cool thing like slaughtering zombies.

Although Rose's legal team tried to point to emails suggesting that an agreement was in place for Activision to not use any images or music related to Slash, Judge Charles Palmer responded, "The only extrinsic evidence supports Activision's interpretation and does not support Rose's interpretation."

Sounds like $20 million down the drain. He should have give it to me and I could have put it to better use. I would have bought 20 million in Slash figurines and put one a night around the house. It would be like an Elf on the Shelf for Axl.
I can see it now. An enthusiastic
Axl
in footie pajamas would wake up every day and look for another
Slash
figurine to SMASH like the
Hulk
!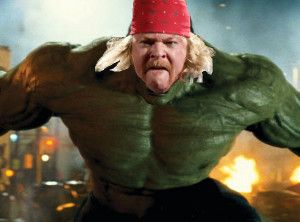 Trackbacks