RATT Members Collaborate with Dave Grohl
Ratt members
Stephen Pearcy
and
Warren DeMartini
collaborated with
Dave Grohl
on a new track. If you follow
@StephenEPearcy
on Twitter like we do (our Twitter is
here
, but I have been uninspired recently). Anyway, if you follow
Mr. Pearcy
on Twitter like I do, you would have noticed this twat: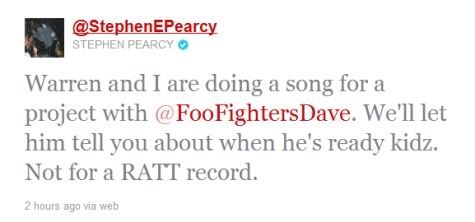 Not for a
RATT
record huh? This sounds like it could be something like
Probot
, but with ex-hair metal bands. Of course, I'd buy it.
Not many people know this, but I bought the
Probot
album (
Probot
was the metal version of
Slash's
record where
Grohl
collaborated with a bunch of legendary metallers and did an album in his garage.)
Now my brothers in blogs made a pact that one of them would buy the Probot album and the other would buy the Damageplan album New Found Power. Then they were going to swap records and share the tuneage. The one who bought the Probot album claims he got a raw deal, but that is because he doesn't know quality metal.
Each song on the album is a trip through the many genres of metal. There is adequate thrash and hardcore and even dabbles in a bit of British power metal. Each singer brings his own inspirations to the record (King Diamond certainly adds a shot of power British metal a la Judas Priest while Corrosion of Conformity's Mike Dean brings hardcore to the record.) I think you can also feel the intensity and passion Dave injects into the record. You can feel he knows what he's doing and loving every second of it.
I would argue and contend the Probot album is satisfying as a whole than the Damageplan record. The Probot album melds various genres and shows Dave Grohl at his finest. The Damageplan was satisfying, but in a narrower sense. You knew what you were getting into with the Abbott brothers and that's what you got. It's not a bad record, but hardly as worthy of your $15.99 back when it was released like Probot was.
I had a hard time showcasing a song off the album because I like each one for various reasons. But I think a lot of you will enjoy the song Sweet Dreams featuring King Diamond vocals, Kim Thayil guitar (yes the same one from Soundgarden) and Grohl on drums.
Trackbacks