KISS Announce KISS-pons
In light of my
KISS
kids television program, we have helped
KISS
tap into a bloody market. A market that is over flowing with possibilities.
KISS
proudly announces
KISS-pons
, or the
KISS
tampons.
The
KISS-pons
will come in a 36 pack to represent the amount of years the band has been active. Each
KISS
member will represent a specific flow day.
Some days you just have a heavier flow than others. If that is the case, broad shoulders of a great frontman like
Paul Stanley
. His gentleness will absorb all the discharge and he will still ask if you want to be KISSED!
If it is just a normal flow day, the legendary
KISS
bassist
Greed $immons
will be there to help you through. He is is a passionate lover who has the experience needed to soothe your aching vagina.
It it is a light flow day, you can turn to the worst drummer in rock n' roll history.
Peter Criss
is light in the musical talent category so he knows how to deal with your light flow days.
Each
KISS-pon
is wrapped in a black and silver
KISS
packaging and is coated in a smooth plastic applicator so your vaginal walls do not get too sore inserting them.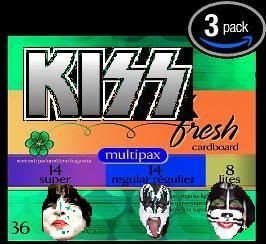 *
Ace
refused to sell his image for tampons. Perhaps he has a soul.
Trackbacks